Our Pharmacy
Dedrick's Pharmacy is your full service independent pharmacy serving New Paltz for over 50 years. Our greatest pride is our exceptional level of customer care and service. Our commitment is to the local community.
When people choose Dedrick's Pharmacy they become part of the Dedrick's family. The Dedrick's staff has a passion for customer care that transcends most expectations. As an independent pharmacy we know that our customers must always come first, and we work hard every day to make that our promise to you!
Contact us today to arrange a no-cost Wellness Consultation to review all of your medicines and supplements and learn how we can help you improve your health outcomes. Your privacy matters to us – click here to view our Privacy Practices. We are your partner in better health!
New pharmacy customers: please download Dedrick's Patient Intake Form, print, complete and bring into the pharmacy on your next visit.
Pharmacy Services
Pharmacy Products
We offer an extensive line of high quality products for your health and medical needs. We provide a comprehensive line of products and excellent value on everything we sell. You'll find your favorite name brand products and quality house brands at great prices.
Vitamins & Supplements: nutritional support; mineral supplements; vitamins & multi-vitamins
Over-the-Counter (OTC): cold & flu remedies, sinus and allergy aids, topical & internal pain relievers/analgesics, anti-diarrheals, laxatives, acid controllers
Health and Beauty Aids: skin care/acne, bath & body, hair and styling, dental hygiene, baby products, shaving, feminine hygiene and contraception
Ear/Eye: swimmers ear, noise ear plugs, contact preparations, redness/allergy relief, readers and sunglasses
Cough Drops and Throat Lozenges
First Aid: bandaids, dressings/bandages, anti-infection, hot/cold therapy
Supports: braces, orthopedic aids, athletic braces and supports, sports wraps, abdominal supports and belts, support socks/hose
Surgical/Hospital Supplies: patient aids for daily living, bathroom safety aids, ostomy, incontinence products, wheelchair & commode rentals
Diabetes Care: diagnostic and monitoring kits and supplies, vitamin/skin care
Smoking Cessation: nicotine patches and gum
Foot Care: anti-fungal, cushions, inserts, foot grooming
Sleep and Snoring Aids: OTC sleep aids, anti-snoring devices, CPAP supplies
Meet Our Pharmacists
Josephine Griffin

Degree from Albany College of Pharmacy
Josephine is a life-long resident of the Hudson Valley. She graduated from Wallkill Central School District and received her Doctor of Pharmacy degree from Albany College of Pharmacy.
Josephine enjoys cooking, baking, gardening, and spending time with her husband, 2 growing boys, and her dog Chase. She has been with Dedrick's for over 20 years and is a dedicated pharmacist.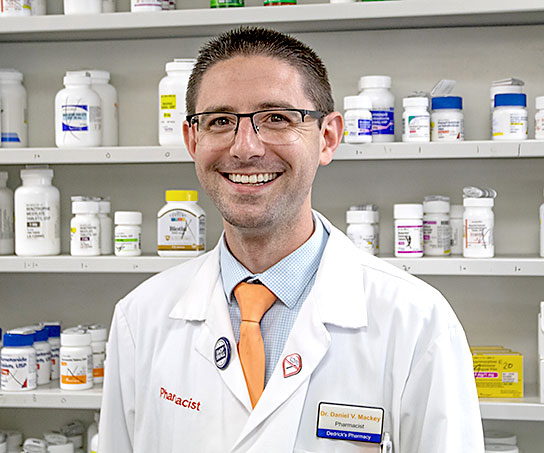 Dan Mackey

Degree from Albany College of Pharmacy
Dan is originally from Long Island. After spending time in the beautiful Hudson Valley Dan moved upstate where he now lives with his wife and children.
Dan received his Doctor of Pharmacy degree from Albany College of Pharmacy Vermont Campus and has worked in pharmacy for over 10 years. He is very passionate about being a pharmacist, specifically being a patient advocate. He is always willing to go above and beyond to provide exceptional customer service.
Dan is always good for a joke and keeps his colleagues entertained throughout the day with his "dad jokes" and witty humor.
Matt Talbot

Degree from Albany College of Pharmacy
Matt is a long-time resident of the Hudson Valley. Having moved here as a young child, he loves sharing what our beautiful area has to offer with his 4 children. He enjoys hiking and golfing.
Matt graduated from Albany College of Pharmacy and has a real passion for pharmacy. He has earned a stellar reputation as a pharmacist and for advocating for the patient. He is very excited to be working in a "patient-centric" organization and looks forward to serving the wonderful customers of Dedrick's Pharmacy.
Jared Nekos

Degree from Albany College of Pharmacy
Jared is a pharmacist and the owner of Dedrick's.
Jared is a life-long resident of the Hudson Valley. He graduated from Rondout Valley High School and received his Doctor of Pharmacy degree from Albany College of Pharmacy Vermont Campus.
Jared is a 3rd generation pharmacist and 4th generation business owner. He lives in Kingston with his wife and 4 children. He loves serving the greater New Paltz area and loves interacting with the patients and customers who make Dedrick's so special!